Jimmy G Hypnotist James Graham is a Windsor Ontario comedy hypnosis show entertainer. The local hypnotist is also known as a well respected musician.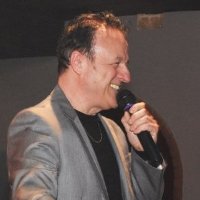 Hypnotist Jimmy G's Beginning
Jimmy G came to Windsor Ontario back in 1981 when he was invited to join the rock band Destiny. Jimmy G played guitar and sang in rock and roll bands as a musician. Soon James Graham was on the road touring across Canada as a musician.
JimmyG played in rock and roll bands up until 2010 when he decided to change the type of entertainment he provided to the public. After seeing a comedy hypnotist show in Windsor Ontario, Jimmy G decided to become a stage hypnotist.
Jimmy G Becomes A Hypnotist
James Graham's stage name was Hypnotist
JimmyG . Graham began to do hypnotist shows in Windsor Ontario in 2010. He began performing for small bar crowds and his hypnotist career was very tough in the beginning.
But Hypnotist Jimmy G continued to persevere. Soon Jimmy G became a popular comedy stage hypnotist entertainer for party entertainment.
By 2017 Jimmy G show became a highly sought event entertainment idea for corporate events, Christmas party entertainment, high school post prom and graduation parties, and more.
Hypnotist JimmyG With Celebrities
By the end of 2017, Jimmy G had appeared onstage with celebrities such as Charlie Sheen, Christy Brinkley, Mel Gibson, Mark Whalberg and more in Anaheim California.
Windsor Ontario Hypnotist, James Graham's career was on a roll.
Jimmy G then began writing his new book, Master Your Matrix, available on Amazon.