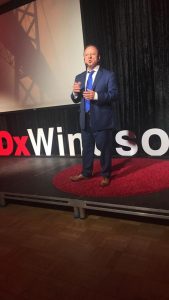 James Graham Hypnotist from Windsor Ontario gave a  rousing and inspiring motivational speech at the most recent TedX event in Windsor Ontario Canada, March 24, 2018.
The TEDx Program is designed to help communities, organizations and individuals to spark conversation and connection through local TED-like experiences.
At TEDx events, a screening of TED Talks videos — or a combination of live presenters and TED Talks videos — sparks deep conversation and connections at the local level. TEDx events are planned and coordinated independently, under a free license granted by TED.
This Windsor Ontario TedX event was organized by local Windsor Ontario people who loved the idea of Ted Talks and auditioned James Graham hypnotist and sixteen other speakers to provide a full day of ideas worth spreading.
Each speaker was allowed seventeen minutes to speak on their topic. Six speakers were featured during the morning session. Graham was the first speaker after the lunch break. 
James Graham Hypnotist Speaks
As the Windsor Ontario hypnotist took the stage, everyone in the audience was on the edge of their seats, wondering what would come next. After all, James Graham hypnotist does hypnosis and the audience was wondering if James would get them all to cluck like chickens during his speech!
James Graham's topic was on the power of visualization. Visualization is the process of using your imagination to create pictures in your mind that causes the subconscious mind to focus on getting results.
Once James began to speak, the Windsor audience embraced the hypnotist and followed along as Graham taught them how to use the powers of their imagination to visualize their dreams and make them a reality in their inner Universe.
The entire crowd enthusiastically participated in what is known as "suggestability tests" to get their imaginations working. The suggestibility tests that the hypnotist used were the magnetic fingers test, the light heavy hand test, and the eyes glued shut test. These tests are the standard tests that most hypnosis practitioners use during hypnotist comedy shows .
The next experiments the Windsor Ontario hypnotist shared with the audience was imagination exercises. First, James had the audience imagine a big red firetruck. Then Graham instructed the audience to imagine a pink elephant. After these two exercises, the hypnotist asked the audience how many people saw what he suggested that they imagine in their minds. Most of the audience raised their hands in affirmation.
After these fun mind games concluded, James had the entire audience close their eyes, then focus on one goal that they wanted to achieve. As they began to imagine their goal, Graham had them imagine experiencing their goal as if it was already happening. Then the hypnotist had the audience feel as if they had already accomplished their goal.
Finally, he had everyone in the audience open their eyes and high five each other and congratulate the person beside them for accomplishing their goal. This resulted in a standing ovation for Windsor hypnotist James Graham!